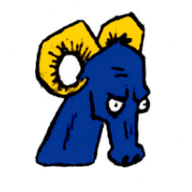 Hamburger Connoisseur
Moderator
Joined

Jun 28, 2010
Messages

39,976
Name

Burger man

The more I think about this here's what I'd do... I'd trade Woody for an answer at RB.

Now I know some will go apeshit at this suggestion. But here's the thing... IF they think Jefferson is ready to produce then you have a surplus in possession wideouts. They also have a lot of cash tied up in Woody and Kupp. I love Woody. But this is about ensuring the Rams have the right pieces to survive the playoffs, where pass-happy teams go to die.

So I said above why would Indy move Mack to us for a midround pick. And I still think that. But they'd move him to us for Woody. And any issues between the relative values of the players can be massaged with mid to late round picks.
Let me get this straight, you're willing to trade Woods, take a small cap hit this year, then almost 9 mill of dead cap next year, for a guy who is 3rd back on his team, only played 1 game last year and is going to be a UFA after the season?
My goodness....