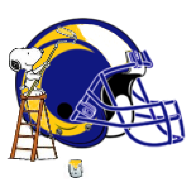 Joined

Nov 27, 2017
Messages

974
Name

Steve
I said it then and I still think it's true. If you believed in Goff, the trade made no sense. If you were ready to move on from Goff, it made all the sense in the world.

We have a window with Donald and Ramsey. You don't spend that window looking for a QB or developing a rookie if you can grab a top 5-10 guy in his prime.
I agree. I thought Goff was good, but it looked like he regressed after the super bowl loss.
Stafford clearly has a better command of McVay's offense but we've seen at times the bad Stafford (Tennessee, Green Bay and the first whiners game). We can't afford slows starts so I hope he's on. I think it helps if we can run the ball because it will keep the defense from only playing the pass.