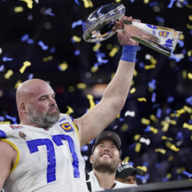 Joined

Jun 18, 2016
Messages

2,027
I don't know what the Rams best O-Line combination is.
Noteboom and Allen were very below average the first month of the season. Allen hasn't made any consistent strides as far as showing he can put together 2 good games.
Whit because of his age was expected to take a step back but the other 2 veterans named Blythe and Havenstein have been disappointing through 8 games.
The addition of Edwards seems to have helped the pass protection but he had a couple of rookie flags last game.
If we get more of the same against the Steelers and Bears, the Rams will probably end up 8-8.
If this group can get their act together, 12-4 is the high and 11-5 is the low.