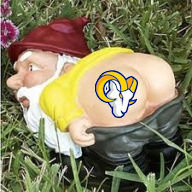 Joined

Jan 23, 2013
Messages

14,051

1. The real concern is that the entire line played poorly. The Chiefs scored on that team in the second half. Andy Reid made adjustments and they worked. The Rams didn't.

2. Their needs to be more options and versatility. The Patriots Defensive line isn't a juggernaut.

3. One other thing was our receivers are all too small. Against taller more physical dbs, they had trouble getting open.

4. It seemed like Bellicheat knew everything that was coming. It wasn't until the third quarter that McVay started waiting to get set after the .15 second mark.

5. A young inexperienced coach got schooled. It wouldn't surprise me at all, if Bill texting Sean after every game was just a ploy to make him overconfident. Bill was obviously studying the Rams all year.

6. McVay wasn't prepared after the Eagles and Bears both took the run and big play away. He needed to have an answer going into this game.
3
Reactions:
ramfan46, Jacobarch and fearsomefour