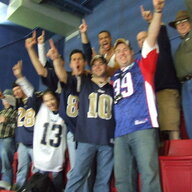 Joined

Aug 3, 2013
Messages

984

He was not good. PFF Oline rankings are fubar imo. Allen could not block in space. He rarely reached his target and when he did he whiffed on the block. He was killing the run game along with Noteboom who had the same problem. Allen was weak in pass pro. He had problems that will only be compounded by his injury. I don't think anyone can teach how to fix his flaws just as they couldn't improve Blythe. Things like speed, vision, acceleration, timing etc are hard to improve on at the pro level
I'm no OL expert so earlier this off season, when they didn't resign Blythe and fans were complaining we had nobody, especially in Brian Allen, I went back and rewatched the first 5 games of 2019 focusing on just B.A. (The first 5 games because Noteboom went down early in week 6 and the OL was influx for most of the year). Allen had some moments when he got blown up in pass pro. He had some misses in the run game. But what first year starter doesn't make a few mistakes? For the most part he did his job. I have to disagree with you on your opinion he couldn't block in space. He often got to the second level and engaged a LB or S. Our running backs averaged 4.3 ypc those 5 weeks (Gurley 64 for 270; Brown 26 for 114). He was good in the pass game too. Goff averaged 329 yards per game and the offense averaged 28 PPG. The Rams were 3-2 and should have been 4-1 if Z doesn't miss the 44 yd game winner against Seattle at 0:00.
I think because of the OL having health issues all year (Noteboom early in game 6 for the season, Allen and Havenstein early in week 9 for the season) AND the Rams missing the playoffs at 9-7, the bad memories remained prevalent and the positives, forgotten. It seemed to be heaped on Noteboom and Allen the two first year starters on the OL. There was an interpretation "the Rams traded for C Austin Corbett (on Oct. 15)
because Allen sucked so much
", when in fact they traded for him when LG Noteboom went down on October 13th. To that point in his career Corbett had never taken 1 snap at C in college or the pros (still hasn't). To make matters worse, Cooks got a concussion in week 8, missed games 9 and 10 and was ineffective the rest of the season (15 rec for 181 yds in 6 games). One OL positive on the season was the youngsters gaining valuable experience and finishing 3-2 even if 2 of those 3 wins were against Arizona. But I think Allen got a bad wrap in 2019.
Last edited: