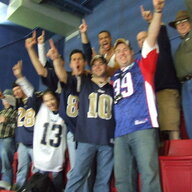 Joined

Aug 3, 2013
Messages

981

I have no idea how you evaluate a player. I rewatched everything game three times that year as I do all games. Allen missed far too many blocks. He was a rookie yes, but I watched him in the Big Ten and was surprised he was chosen so high. I saw the same problems in college.

The first three games of 2019 the Rams opponents did not copy the single high safety/6 man defensive front, Fangio defense. The pressure was not as heavy. The offense struggled as soon as

It's very clear that once Edwards came in the offensive line improved. We saw that happen twice. Both in 2019 and 2020 but you still think Noteboom was a good guard?

Back to Allen the Oline play improved once Blythe replaced him as well. It was easy to see. Blythe played better than Allen. Blythe who the Rams weren't concerned with retaining.

I'm sure I won't change your mind because you've already made yours up it seems. We only have time to tell the story. Want to bet some money on how Allen's career goes from here on out?
I don't pretend to be an "evaluator". I watched the games and focused entirely on Allen. He did nothing to hinder the offense. How do you square the fact with Noteboom and Allen starting the offense averaged 28 PPG but they sucked?
To your point "it's very clear that once Edwards came in the offensive line improved", I disagree. He improved, as did Corbett and Evans the last 5 games of the season. The first 5 Edwards played the Rams had 408 rushing yards on 128 carries (3.1) after a 4.3 average in the first 5 games with Noteboom and Allen. As far as high safety/6 man front what teams employed that against the Rams in 2019?
I said Noteboom is not a guard, he's a tackle and last year he didn't really make anybody miss Whitworth. IIRC, most of Ramsnation blamed Goff for the Jets loss, the Seattle loss and the SF loss (I blamed McVay for that last one). So we've seen him for 5 and 1/2 games at LG and 7 and 1/2 games at LT. Clearly he's a better tackle.
The way I've read it on another site is according the Lindsay Thiery, Corbett is the front runner for C. As far as Noteboom goes, we may need him at some point this year. Whit is turning 40 in December and he's coming off a year when he missed half the games.
Last edited: