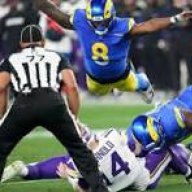 Joined

Mar 31, 2016
Messages

88
Name

Mike
Guys (Mojo and Jrry in particular),

I think we can all agree that rushing TD's typically result in a combination of scheme and OL execution. To Mojo's point, it can be beneficial to have a larger RB (220+) that is capable of hammering it in from short distance. But to Jrry's point, there are numerous players over the past few years that have been in the top 10 in rushing TD's that few would describe as "power backs." McCaffrey, Kamara, Cook, Lindsay, Jones, Connor, and Gordon come to mind off the top of my head.

I am honestly of the belief our OL was worse for much of the season that we as fans even believe. I think McVay adjusted and got the ball out quicker to help compensate. Even the running plays were often intended to simplify assignments and put our OL in a position to simply manage. We can argue/discuss the personnel decisions (Allen at C, Demby, Noteboom's early performance, etc.) until we are blue in the face, but the bottom line is an OC can't do much without a decent OL.

McVay relies on deception and an OL to execute for it to be effective. The Titans, as Jrry's example, or even the Pats (who "tell" by virtue of their RB) also rely on an effective OL to execute, their scheme is simply very different than McVay's. In the end, it will always come down to scheme and OL execution. McVay utilized many of the same principles last year (a downer) as he did the year prior. The OL just sucked and almost all of the "playmakers" production did as well as a direct result.

I am just not "down" on our offensive capabilities as many of the posters on here are. In fact, IF our OL (and center position in particular) can get it together (and I believe they have the talent to do it), I think we will see the "old" Cooks, Woods and Kupp being effective/what we've come to expect, and our RB's with room to run. What has me really excited is I also forecast McVay continuing to utilize Higbee as a weapon; something we didn't have during our SB run. I'm jacked.

If we can avoid "tells" and our OL executes, I honestly don't think the weight/power of the RB will make much of a difference.