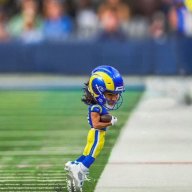 THIS IS MY BOOOOOMSTICK!!
Joined

Nov 9, 2014
Messages

9,217
As a WR that comes with the job, right?

Fans have been all over other players labeling them as injury prone for the same kind of on their job injuries that come from being rolled up on or other freak injuries they have no control over.

The list I have found is 7 separate injuries long for Kupp. In 2018 he had two stints where he missed games.

I love me some Kupp, I want to see what other Rams fans think. Does he get a pass from this label because we like him? So far the only 2 replies says yes.
The average NFL player suffers from 3.76 injuries in their career in which they miss time. That's pretty standard for an NFL now man. IDK if I'd call Kupp injury prone compared to others.