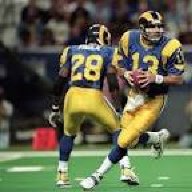 OregonRam
Rams On Demand Sponsor
Joined

Apr 28, 2017
Messages

1,490
I'm not a fan of the term "injury prone." All players are prone to injury. Some may tolerate minor injuries more than others, but some injuries are universal.

Kupp gets targeted a lot. That makes him more likely to get hit, and more susceptible to injury.
I remember watching Steve Largent a lot, and I think he had a pact with Roger Craig or Zorn that he would catch passes over the middle, as long as he dove to the ground to get it…not many yac yards for Largent, but he did last a long time. Cooper is such a team player that I don't care if he's injury prone. I said it before the season about Stafford and I will say it now about Kupp..the best way to keep our skill guys healthy is to have a running game…I'm so disappointed that McVay has shown very little creativity there, and it's dangerous to be so one dimensional. I think I heard some Kupp style criticism after the Tampa Bay loss when he said after the game…the last time we had the ball, we knew we were going to run it, they knew we were going to run it, and everyone knew we were going to run it…Maybe Kupp way of saying, we have become too predictable.