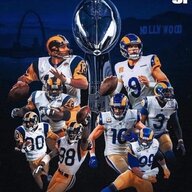 I like pizza.
Rams On Demand Sponsor
Joined

Jan 15, 2013
Messages

8,004
Name

Erik
As he's a highly analytical guy and coach he's always gonna go with the numbers rather than feeling the flow of the game.
That's a great point too, and one that has bugged me. I get the analytics thing, and it is a valuable tool. But it's not the only tool, and sometimes, as you imply, you have to toss the analytics thing and just go with the feel and flow of the game.
There is a place for numbers and a place for gut instinct. McVay would do well to learn to recognize the difference and the limitations of the analytics tools that he relies upon.