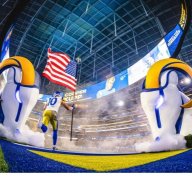 Enjoying the ride
Rams On Demand Sponsor
ROD Credit | 2021 TOP Member
Joined

May 8, 2014
Messages

27,717

At the same time, the defenses we faced in those playoff games absolutely HAD to respect the run, or Marshall Faulk would kill them.

And there are counterexamples as well - like the NFC Championship against the Eagles two years later. The passing game was a bit disjointed in the first half, so Martz came out in the second half and started out giving Faulk something like 7 or 8 straight carries, which really set the tone for the half. After that, the Eagles D was the unit that became disjointed, as they could never figure out whether to emphasize stopping the run or the pass and ended up stopping neither.
We also lost the last two Super Bowls we have been in. So the low rushing totals are not a surprise.
In that last Super Bowl vs the Patriots btw guess who had 94 yards rushing on 18 carries. Sony Michel. Feed him plz McVay.