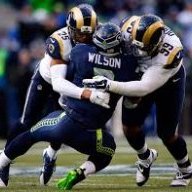 Joined

Oct 16, 2013
Messages

3,494
I appreciate the posture. Realizing we all have different views but the same end goal of Rams winning is a solid mindset. Hey, even I'll admit I get overly negative and whiny at times about what I think is right, and have to reel it in some times. No one wants excessive whining or criticizing our players or coaches, or know it all attitudes. But we should be able to air our opinions and have a little bit of leash to vent to an extent, as long as we don't make it personal which I myself am guilty of.

Having said that, one of my gripes is the idea that coaches and GM's can't royally screw up. It happens all the time. Even the so called greatest evaluator Mike Mayock and Football Guru Chuckie have really layed some eggs in recent drafts and Free agency and had an embarrasment of a high school defense running around last year due to missed picks and personnel evaluations. How did Joyner and Littleton work out for them? How bout Clelin Ferrel?

I completely agree with Jrry that overthinking drafts and evaluations happen all the time. I think good evaluators are the exception not the rule. GM's like Ozzie Newson are rare.

Perhaps Snead and Mcvay should be given more credit for the strategy of selling picks for proven players, because the draft really is a crapshoot. But the Tutu pick is hard to stomach just from that standpoint of who was on the board and the fact that he has zero chance of being a starting player due to his size, at least from my vantage point.
I'm all for calling out a coach and GM when they make mistakes.
But seeing the same posters trash a draft class every year, turn out to be wrong, ignore it and come back and trash it again is a bit much.
Plus, Gruden and Mayock haven't experienced the success that our regime has.
And this year is different. The Goff saga was divisive and people are clearly carrying some resentment about that and it's going to magnify everything that Snead and McVay do.