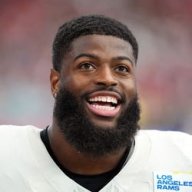 Rams On Demand Sponsor
Rams On Demand Sponsor
Joined

Nov 3, 2013
Messages

30,539

It's the changing his stance and bat position every day that bothers me.
Could be he's working through what the hitting coach is trying to get him to do. It's not easy after the years of playing these guys have done to break bad habits/mechanics.
All I'm doing is preaching patience, I do that a lot around this site. We saw good Cody again when it mattered most in the post season. I'm personally willing to let him work through things in camp.
Last edited: