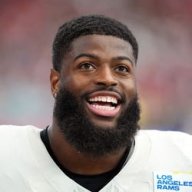 Rams On Demand Sponsor
Rams On Demand Sponsor
Joined

Nov 3, 2013
Messages

30,539

I cannot watch soccer. It puts me to sleep in 10 minutes.

I was at a pool in Las Vegas where there was a big screen next to the pool and they showed soccer games every day

I tried watching but I just could not get interested in it.

Even if I know the rules, it is like watching chess to me.

And yeah - I haven't watched basketball since Kobe retired and even then I only watched the NBA finals for the most part.
That happens with people who never played soccer, they don't know what to watch or how to watch it. I've noticed the same thing with people and hockey which I'm not a huge fan of but I'll watch from time to time. Soccer is a great game, if you know what you're watching.