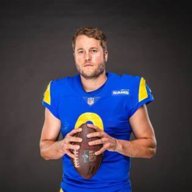 Joined

Dec 23, 2019
Messages

1,478

Also I dislike how quickly they push the scores post-game. Real bad indicator right there. It's a great idea but they should be constantly refining their process to ensure the best results but that is not what is happening IMO.
Unless they have an enormous staff, there is no way they are watching all of these positions in every single game. Not Possible
That's why you are getting so much inconsistency.
I mean Hell they're not even watching all the QB's much less linemen.
I would love to see them explain the difference in Baker Mayfield scoring higher than a damned near perfect game by Stafford.
Maybe the fact that Stafford's WR's are so damned open that it hurts Matts score .lol.