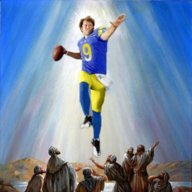 Joined

May 28, 2011
Messages

13,073
Karun was the best part lol. "This does suck sir!" HA.

It had moments, especially during all the time jumps and the final "battle" was cool. Then you also had Kumail's weird American/Indian accent going on too. Like I said, I'll give a second go for sure. It'll be nice where a guy isn't snoring his ass off. Hopefully with the intro of celestials into the MCU, which makes them a bigger threat than Thanos, Phase 4 will ultimately be just as good as 1 and 3.
I think that Phase 4 will be a pretty fun one personally, it seems like they're setting up some interesting things and they shouldn't need to go through growing paints either. I enjoyed the film, although it felt weaker than a lot of the other newer stuff from Marvel, but I'm interested in where they'll go with the group next.