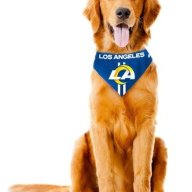 Joined

Aug 5, 2021
Messages

1,363
Name

Kupped
That's really the main reason as you pointed out. We don't have the O-line to just sit back and sling it...never have had that since McVay came on board because he was a play-action play caller and needs a nimble line. We are just sitting there declaring our intentions right off the bat when we go empty on 1st down.

I hope McVay realized that Stafford is not superman and can use some help. It would prevent Stafford from playing Hero ball and trying to do too much. It's ingrained in Stafford to play hero-ball....he played on teams that he was the guy who had to produce or they lost.
Your last point is fantastic.
McVay needs to actually coach him... not just "partner an learn from" Stafford. He needs to make Stafford better and to help him unlearn some habits.