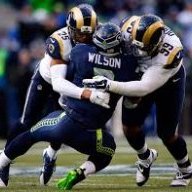 Joined

Oct 16, 2013
Messages

2,788
Winning at the LOS on both sides is the key to every game, so this goes without saying, but we must win on both sides.

Rodgers season is even crazier when you realize how bad his game was against the Bucs - if you take that game away he would have beaten his own NFL record for best passer rating in a season.

He hasn't seen a defense like ours but we haven't seen an offense like theirs.

And I keep saying this, but Jalen Ramsey and Adams (or Metcalf) are both elite players - Ramsey has shut down elite WRs all year. He's sort of due to get beaten badly by someone. Law of averages type thing in my mind.

Have to hope we're the more physical team on both sides of the ball, only way to overcome the QB discrepancy here.
3
Reactions:
Ellard80, Deac, hotanez and 1 other person