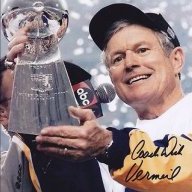 Joined

Jun 20, 2014
Messages

3,093
Where to start?

Packers have an elite O and Rams have an elite D, right?

Irresistible force meeting immovable object kinda thing?

Needless to say, this should be interesting. Big plays on both units are virtually certain to occur and entertain us.

My admittedly biased take? I suspect (but don't guarantee) that Staley will have packages and schemes that will frustrate Rodgers. And I mean a lot.

Meanwhile, Staley will have a pass rush, hopefully from just 4 guys, that give Rodgers precious little time to go through progressions.

If this unfolds I think the Rams win going away via turnovers and TOP. Goff will then have the luxury of handing off to Akers and getting the occasional pass completion on fairly safe throws.

So, I guess what I'm saying is that this game doesn't hinge upon which QB starts at all. It 80% depends on this elite Ram D and having an effective running game. Rams win. Who's next? Lol.
6
Reactions:
OnceARam, RamBall, FarNorth and 4 others