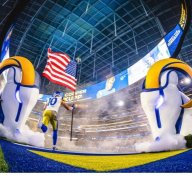 System Waterboy
Rams On Demand Sponsor
Joined

May 8, 2014
Messages

20,015

The Packers defense is interesting. They're better at situationally stopping the run than they are stopping the run, first off. If they get you in third and two for example they can certainly load it up and stuff you and make you punt but they're not good at snuffing the run game outside of situational downs/distances. And that, IMO, is where Akers provides a legit threat to them.

But Mike Pettine is a DC I have always respected, he's a good gameplanner and a better gameday play caller.

He'll probably have his defense playing bookend 3T with the DEs to be as stout as possible vs the run. Which means early game McVay will start by attacking the edges. I think it's going to be tough going at times given how our offense has struggled this year but expect the Rams will be patient and wear them down.

The Packers defense is built to slow comebacks basically, IMO. If they get up on us early it's over because the Rams aren't geared for a shootout. If our defense keeps it close though I feel like we can definitely wear them down and take control at times and that's when finishing drives and all that factors in.

Best thing that can happen for us is Akers gone wild though. If Akers has a big day the Rams have a good chance to win this game.
4
Reactions:
Ramstien, FaulkSF, FarNorth and 1 other person