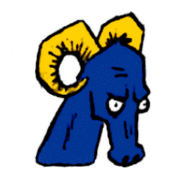 Hamburger Connoisseur
Moderator
Joined

Jun 28, 2010
Messages

35,189
Name

Burger man

The #22 ranked QB is going to been seen as bad in comparison to the starting list as a whole. In reality that #22 ranked QB is going to be pretty darn good. The players on the Rams O-Line were good players and rarely did the O-Line look incompetent. However, by ranking the situation was bad. I expect our O-Line to be decent next year. I expect the comparative ranking to be bad and I expect other O-Lines to give their QBs and RBs more time to pass and better holes to run through.

Greg Robinson is a bad starting LT. However he's been a starting LT for many years. If he was that bad he wouldn't even make camp let alone a game day roster. Bad is comparative and it's rarely fair.
Yeah, I could see this. Makes sense.
I am expecting a bit of surprise myself. Mostly because offensive linemen truly is a developmental position compared to others. Our smart coaches sat confidently with what they had... that tells me that plan is on track.
So I chuckle at that writer being so confident opposite guys paid to coach.