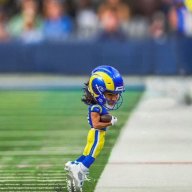 THIS IS MY BOOOOOMSTICK!!
SportsBook Bookie
Joined

Nov 9, 2014
Messages

8,446
Granted, he has to stay healthy, and that is where he has struggled in the past. This Pre-Season, he missed a lot of time, and I felt like he might not be available much, but he has been playing a lot, and is starting to jump off the screen a little. Hope the guy stays healthy, He could be a real steal if he does.


Go Rams.
As many have said it's never been about his talent, that's a no brainer.
This is really the first he's played since he's been drafted not to mention the time he missed at Alabama.
Didn't like the value he provided at that 3rd round pick with his injury history, but one thing I love about McVay is he seems to have a coaching style to identify players or vets that need to be be put through the process to preserve/ get them ready and not grind them immediately upon return.
I won't lie I cringe when I see him change of direction! Lol Happy for Lewis. Starting to put it all together though. Come the end of the season and playoffs?
I got a semi right now for that potential