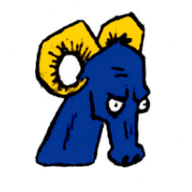 Hamburger Connoisseur
Moderator
Joined

Jun 28, 2010
Messages

39,191
Name

Burger man

We might draft a CB.

But to say we need one for this year is to ignore where we were one year ago today.

One year ago today Rams fans were mocking Troy Hill being cut, and D Williams was just a player with potential.

This year were in much better shape with an established D Will and we need two DBs?? IMO we need one to replace JJ - if that's Burgess, then draft a CB. Otherwise a S.
Good points.
We are in better shape. Still looks like work is needed with depth, but that's the ideal place to "need work".
Oh man camping sounds amazing right now.
I've had the sum total of 5 days off since the new year.
You've worked 7 days a week mostly since the new year?
2
Reactions:
Mackeyser and fearsomefour