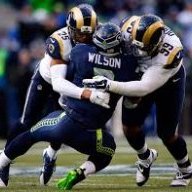 Joined

Oct 16, 2013
Messages

3,371
And we were 2nd in the NFL in sacks with everybody but Ebukam returning. However we're losing a starting Corner. Also to say we got torched because of a lack of pass rush is incredibly disingenuous without mentioning the fact that the best defensive player the DPOY the man who pressures the QB the most in the NFL was not himself and didn't play even the whole game. To sit here and blame it on a lack of pass rush and not saying why is really shady.

Also there's a major difference between the pass rush and the secondary.

The secondary is returning everybody but our starter JJ3 who also called the plays. A big loss but we've prepared for him leaving by drafting to fill behind him the last 2 drafts.

We drafted Terrell Lewis who going into his 2nd year should provide a boost to the pass rush opposite our expensive resigning of Floyd and his 10 sack season.

Who's the CB we've drafted the last 2 years that's going to step up this year and fill the void left by Hill leaving? Also we don't know yet if Williams will be back. Everybody assumes and hopes he will be back but it's far from certain that he will, if it was certain he'd have signed the offer sheet already. We drafted Long 2 years ago and we can hope that he steps up in his 3rd year but so far he's given no reason to think he will.

CB is a very real need for the Rams according to some of us. Funny though the people who want a CB also want to add a body to the Edge room. Obo has been decent but hurt and inconsistent. Lewis showed flashes but needs to be healthy. None of the other OLB/Edge on the roster inspire much confidence. Just because we obviously need a CB doesn't mean we can't or shouldn't add an Edge as well.
People are entitled to their opinions obviously - it's just ironic because I'm sure many of the people who say CB is a need now also said it was a need one year ago this time - Hill was everyone's favorite player to cut and now we're wondering who will replace him? Someone already on the roster who fans haven't seen so have written off. Those people were dead wrong about Hill, but then some are doubling down again this year.
We actually lost arguably our second best pass rusher - definitely third best - in Morgan Fox.
I'm aware that AD was injured and wasn't trying to be shady at all - in fact, him being injured proves my point because we had zero Pass rush without him. Pass rush is a bigger need right now than CB IMO.
Really don't get the "obviously need a CB" comment. We have two top 10 CBs - saying third CB is an obvious need when weve been developing players in house - why stop there? At that point almost every backup is an obvious need because we don't have a starting caliber player (according to the same group that wanted to cut Troy Hill) waiting in the wings.
It's not a need for 2021 but I can see it as a need if we're unsure about being able to re-sign Williams. I won't be upset if we draft a CB but I don't think any position can be classified as a need if you have two top 10 players at that position and have invested prior draft picks and time in developing the depth behind them.
2
Reactions:
Juice and Jorgeh0605