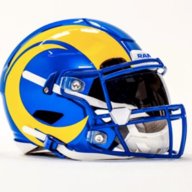 Joined

Aug 17, 2017
Messages

1,352
2nd half defense was TERRIBLE. After the almost shutout in the first half, they just went into a prevent, and gave them every play underneath, then refused to tackle.
Don't know what the explanation for that is, the rams swarmed the 9er run game in the first half then I don't know what happened. There were 4 or 5 rams in position on seemingly every run play yet they were getting 7-8-9 yds. I remember one play Deebo was running it and Obo comes in and hits him with his shoulder attempting to knock him down, he bounced off and gets 4 more yds. None of this matters if the offense isn't totally stymied in the 2nd half, the rams had the ball over 5 minutes for their lone score of the 2nd half, every other possession was under 2 minutes, some well under.
A field goal drive might have been enough. The run game was awful but what about the short passing game, get Cam in space and see what happens. It seemed like Stafford waited to the last second when he did try to dump it off which led to some bad throws.
Once again in game adjustments are McVay's downfall, what is your counter to their counter.