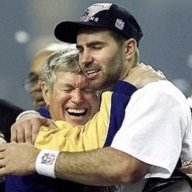 Joined

Jun 1, 2015
Messages

2,642
View: https://m.youtube.com/watch?v=mYlgbMsWmLU
Above is the link to Buzbee's press conference today.
The first accuser (Ms. Solis, I believe) reads a statement near the beginning.
Poor woman seems pretty fragile.
A couple thoughts:
1. For those of us who are fathers, I hope we talk to our daughters about how to say "no" to guys, forcefully and confidently and gracefully. My daughter is 14, and I'm sure she's gonna experience some unwanted attention at some point-- maybe more than that.
2. I can't imagine what it must have been like for Ms Solis to have this large, physically imposing, powerful, famous man lying naked in her house and making unwanted advances. OTOH, I wish she had had the wherewithal to end the session abruptly and say something like, "I'm sorry, but this behavior is not okay, this is not what I do. Please gather up your things and leave my house. This session is over." This is easy for me to SAY, of course... what if she worried that saying something like that might escalate things and make it even worse...? Bottom line, I feel sorry for her that she seems to be traumatized.
3. Hate to say this, but I hope that all Licensed Massage Therapists receive "how to deal with sexual harassment" training. I would imagine that many licensed massage therapists go through this at least once (or more) in their careers. Hitting on a masseuse is unfortunately a cliche in our society.
Anyway.... what a tough situation.
9
Reactions:
JackAttack85, andre, RamsFanCK and 6 others