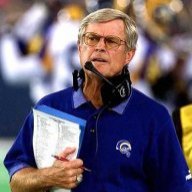 Fifty-four Forty or Fight
Rams On Demand Sponsor
Joined

Jan 16, 2013
Messages

16,720

Yeah - right now Williams is getting a lot of first team reps still. I've seen him on the right side as well though.

Noteboom will get his time though once training camp starts.Full lads might to the biggest difference.
MLucas is just a huge dude.
And my humblest apologies for starting a new thread....So let's get this thread to the top, again sorry
@BonifayRam
anyway Darrell Williams is still young and might have some upside, however, I don't think he can play RT. He's more of a natural LT and against the 49ers was not very good and that's being kind.
Williams has had his moments in Preseason, however, was out played by none other than Pace Murphy a few years ago...Cornelius Lucas showed very well at RT, so we shall see how he plays at LT, but
@BonifayRam
is correct, he did not show well in Detroit. Overall I still believe they will keep 2 tackles and could go with 10, however, if Lucas does not show well and Williams continues to struggle, they might try Demby at RT to see how he handles it for depth.
2
Reactions:
BonifayRam and nighttrain