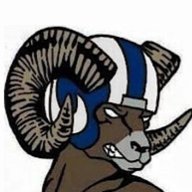 Joined

Mar 22, 2017
Messages

4,994
Name

Charles Mazyck
Long overdue IMO. He simply didn't know how to coach rookies. He clearly didn't understand gap blocking concepts. He only knew zone concepts so that's all the Ram's ran was inside and outside zones, the most simplistic versions of it BTW. He got all the credit in 2018 when he had vets, then 2019 showed how poorly he had developed the young players. He was the offensive version of Wade Phillips in that regard.

Only Kromer would have thought Anchrum is a LT in the NFL, or that Blythe was a starter either at OG or OC. He's kept slow-footed Havenstein at RT and inserted the guy that they drafted to replace Rob at OG and instead had slow-footed Evans as RT backup?. What nonsense. IMO when he was asked about o-line changes he balked. His depth chart and game review was all I needed to see to know this guy is a fraud.

IMO this could portend an O-line positional realignment, i.e. Noteboom to LT, Edwards to RT, Corbett to LG, Evans to RG and probably Shelton or Allen to C.

Good riddance.
Are you available to be our new O line coach?
You obviously know more than Aaron Kromer.
3
Reactions:
ramfan46, Merlin and RamDino