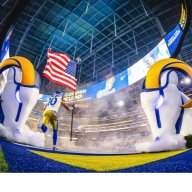 System Waterboy
Rams On Demand Sponsor
Joined

May 8, 2014
Messages

20,552

And yet multiple Alabama skill players said they think Mac Jones is a better QB than Tua. All in the last few months... Ruggs, Najee Harris, Devonta Smith, Waddle all said they prefer Jones. Steve Sarkisian also came out and said his NFL comp is Matt Ryan.

Tua was just such a big name for years but he didnt show me much last year in the NFL. I like Trey Lance over Mac Jones but I wouldn't be surprised if that's what Shanahan wants at QB. Quick reads, quick throws, good arm, comes from a pro system. This year's QB class is pretty good.
The criticism re: Jones is over the top IMO. He's not a great athlete yes. But the guy is smart, gets through reads quickly, and might be a quick study in terms of being able to run an offense at this level.
All this media prioritization of running ability overlooks things like fit with an offense. If, for example, he can get through his reads in the NFL and make accurate throws on-time he will be worth that pick and Shanny will look like a genius for taking a good player. If he doesn't Shanny will be criticized and the media will act like they knew it all along.
Nobody knows if the guy has the gravitas to stand in there and make throws at this level. But I think if Shanny wants him there's a good chance he'll work out.