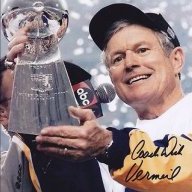 Joined

Jun 20, 2014
Messages

4,024
Bear with me here because I'm gonna engage in some outside-the-box thinking that might coincide with Rams lean offseason strategy proposed. Assuming Rams want to minimize FA expenditures and both present and future cap costs so that they can go hog wild in '24.

What if they think OL is fixed after extending Shelton?

Boom
Jackson
Shelton (Allen as backup)
Anchrum, Bruss
Hav

That's a decent line IF nobody gets hurt.

RB

Just needs a mid round draft pick for depth

TE

Hunter Long addition makes them 3 deep

WR

AR stays so no need for more help.

Backup QB

Just sign a vet off the scrap heap now that my top 3 have signed elsewhere or draft one they like mid rounds.


As to the D:

IDL. Let Gaines and ARob both go and utilize the 2 Browns and anybody else remaining from their current depth.

Edge. Hoecht starts on one side and a high draft pick becomes other starter.

CB. Durant starts outside and is joined by a high draft pick on other side. Rochell and Kendrick fight for snaps at slot (or wherever)

S. Fuller, Yeast, and Lake fight for snaps plus Rams draft another S late.


ST. Draft a kicker and a punter (if Dixon isn't extended). Find a long snapper among udfa's, as usual.

Well, something like the above appears to be in store for '23, y'all. Semi competitive if McVay and his staff coach their brains out, but probably not a serious playoff contender this year.

Projected draft priorities?

First 3 picks will be edge, CB (maybe 2), OL (interior), TE, WR, or RB depending on their board. All 6 positions will be drafted for sure before end of Day 3. Kicker will probably be drafted in 6th or 7th if one if the guys they really like is still there. Otherwise it's gonna be FA or more likely a udfa for kicker.

Beyond the above I expect Snead.McVay to sprinkle in depth players at a variety of positions that fall plus a very active udfa strategy. Whatever money is left over will likely be spent on 2nd tier FA's at thin positions and/or signings down the road from final cuts by other teams.

This roster building is gonna be a 5 month ongoing process (even more than it normally is for Rams, anyway).

Do I like it? Am I excited by what our '23 roster might look like? Nope. But something like this is probably in the cards for 2023, I'm afraid. Rams will win 7-9 games IF coaches do a great job.

Thoughts?