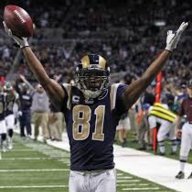 Joined

Jun 11, 2017
Messages

4,442
Lol, I guess I need more faith. I thought it was a night game being in LA. So I checked the mlb site for the game time and saw the Dodgers were down 5-2 in the 8th and no one on base. I said "Welp, looks like the Dodgers ain't repeating. Not even gonna watch the last inning."

Then a few minutes later my son calls me and asks "You watching the game Dad?" I said I didn't wanna watch them go down 3-0 in the series. He said "Dodgers are leading 6-5. Bellinger hit a 3 run homer to tie it. Betts knocked in another run", I said "WTF? I thought it was over".

I sure hope this means Bellinger is snapping out of his season long slump. That would be huge with his power. And Jansen is looking like the Jansen of a few years ago. Dodgers still have an uphill climb. They almost need to win the next two. But at least they have life now.
I had given up too.
Did you know that in the previous 84 playoff games that the Dodgers have never come back and won a postseason game trailing by 3 runs or more in the 8th inning.
This was a first