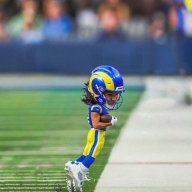 THIS IS MY BOOOOOMSTICK!!
SportsBook Bookie
Joined

Nov 9, 2014
Messages

8,662
Indulge me, so watch this clip before reading or commenting if you would.
View: https://youtu.be/V3IGrMtdWRQ
Notice how Floyd and Miller criss cross in the backfield and Donald comes up the middle and ends the game.
Question: Do you remember when we didn't have another end in the years past to contain the ball and take advantage of having Donald push up the middle and devastate offenses?
I have a vote of no confidence with Hollins and Lewis as our guys on the edge to limit and keep offenses in the 'bubble of contain' .
Lewis would more likely have been a 1st round pick if he didn't have his awful and constant health issues.
Hollins is a great rotation and even temp starter but I don't see him as a difference maker like Floyd or Miller to maintain this defense and their dominance.
I was praying with our 3rd or 4th rounder Sam Williams DE from Ol Miss who the Cowboys took, would fall to us with his issues and we'd have the leadership/mentorship to take advantage of his skills and to keep him under control.
IMO we are going to have to make a trade for a consistent DE when management realizes this dual of players isn't able to get the job done and to compensate for this they are more than likely going to have to bring an extra blitzer ( Wagner or Jones) from that side.
Am I the only one that has a concern with the opposite side of Floyd and being able to produce consistently to a certain point? (obviously not the same as Von)