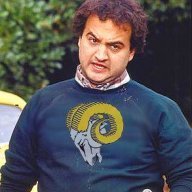 Joined

Feb 3, 2013
Messages

19,886
Name

mojo
Don't know why some peeps are fascinated with trading Kupp. Just plain retarded if you ask me. You don't trade away affordable offensive weapons that would give Stafford less options. Kupp is a legit player, Goff not reading the field as well definitely capped his effectiveness. Spreading the ball because our QB reads the field better will open things up much more than Goff locking his eyes on Kupp every damn 3rd down
We like to have some fun on this board, as well as talk serious football.
Kupp is an outstanding WR but i value reliability, dependability and durability higher than most fans do. To use a relatable analogy...i'd rather have the average co-worker who shows up every day over the guy who busts his ass but calls out every Friday.
Injuries. I want Kupp on this team, but the dude needs to be in uniform and ready to go for the playoff runs. Period.
6
Reactions:
BatteringRambo, blackbart, payote75 and 3 others