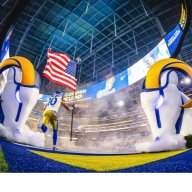 Swamp Gas Enthusiast
Rams On Demand Sponsor
Joined

May 8, 2014
Messages

21,298

Blankenship just missed a 41 yarder. Second miss of season.
Yeah but you know what really bugs me about that last miss by Sloman is the lack of energy on the ball. I get that there was wind, but that ball looked like it barely made it to the endzone. His ball on the short field goals goes up and through with good energy but that long one today ugh.
That plus the short kickoffs... It may be be enough for me to pull the plug and sign H10 to replace him. I would be thinking hard about that right now if I'm McVay. And I'd probably have Bonamego's ass in my office this week too tbh.