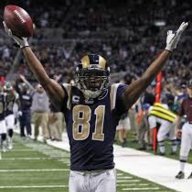 Joined

Jun 11, 2017
Messages

1,924
As much as any of us think we know. They know more. Sometimes they miss, sometimes they hit. But don't kiss yourself into thinking you know better.

They chose the guys they chose for reasons we don't know about.

We are fans. That means we follow no matter what. We don't have to like it. But every year I watch people here that I believe honest to God think that they know better than the guys getting paid millions to do the job. We have some very smart posters. We have guys that know far more than I do about the college athletes. BUT, we have NO ONE that has any damn clue what McVay is looking for.

Will he hit every pick? History tells me no. But I guarantee we got more than one guy we will be excited about come the end of the season.

Have faith. Have hope. And cheer for these new Rams. For they are who you got. They represent what you love.

In McVay I trust!

Also, I can't wait for Lil Tutu to prove the haters wrong...small but mighty.
I am not a hater on Tutu - I am just scared to death we are going to see a dead man if he gets hit hard at his college playing weight of 153 (even 160 which he is currently at).