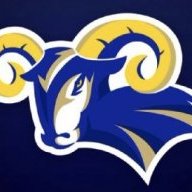 Joined

Aug 10, 2013
Messages

2,954

Sorry, but if McVay delayed firing Kromer for nearly two months in order to line up his replacement-- which I highly doubt, and which makes no sense-- it was the wrong thing to do. If the organization wants to hang coaches out to dry then it will earn and deserve a poor reputation for how it treats them.

But I was responding to speculation which seems extremely unlikely to me. If McVay could hire Carberry now he could have done so in early January. The supposed behavior would also be unworthy of McVay. In the past McVay has given coaches and players timely notice if they're fired or cut so they can compete for other opportunities.

The explanation that instead makes sense is that McVay and Kromer could not agree about the path forward-- that being the subject of intense discussion only AFTER the end of the season-- either with respect to personnel, or scheme, or both.
I guess we just see the supposed/rumored actions/motivations very differently.
Let's say McVay views Kromer as a B+ coach. They talk about how to move forward, what's needed, what the plan is. McVay thinks he's going to get the same B+ performance it of him he's always got and he thinks to himself "I wonder if I can bring in an A+ coach?". He calls up Callahan and asks if he knows anybody. He gets referred to this dude. He calls up this dude. Everything goes super well. He feels like he can at least be another B+ coach with a shot at being an A+ coach, with a bonus that he had new ideas and college insight for the next 2-3 drafts (by which time dude will probably be gone anyway). He talks it over with Kromer and offers a deal like Bonamego got: consult and whatnot but not the head guy for the unit. Kromer decides he'd rather just ride off into the sunset.
That's just one of a few "find a replacement before firing a guy" scenarios that aren't fueled by the dark heart of evil you seem to see in that (a little exaggeration, I know).
Even if he sees Kromer as a C- and says to himself "what if I fire my C- and get suck with a D-? I think I'll find a replacement first because I'm not a dumb ass" that's good organizational planning, not sinister and evil Machiavellian scheming.