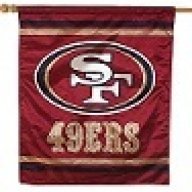 Joined

Dec 1, 2012
Messages

50
How is that spin? That's exactly what Shanahan and Lynch said over two days (one the week of the draft, the other the day of the draft).
Clearly Lance was their favorite over the rookies (they DRAFTED him...). And Lynch said, "If you hear the MVP of the league may be available, you inquire," or something to that effect. Shanahan called, and was told he'd be wasting his time.
I mean, how is it remotely weird or controversial to prefer AARON RODGERS to a rookie QB? I'd take Rodgers over Lawrence and Wilson too.