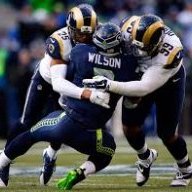 Joined

Oct 16, 2013
Messages

3,201

There probably is a number.

But for me, I was appalled when the Titans had our 5th overall draft pick. As we saw the McVay years play out, it became clear that Cooper Kupp is better than Corey Davis, and JJ is close to Jamal Adams' level IMO. Those two were drafted 5 and 6 while our two were drafted in the same draft, in the third round.

That made me realize two things:

First, how much does the situation play into players having success? I decided that I think it matters a TON.

Second, we as fans have always loved the draft. There's a thing about rookies - a shine that everyone loves. The year after we drafted SJD and redshirted him, fans mocked replacing him, constantly. I pointed out that the coaches likely kept him for a reason, but everyone wanted him replaced - most likely because they never saw him, and as such, he must not be good.

The truth is, it's almost a 50/50 gamble with TONS of resources that we as fans don't have access to. And not all first round picks are created equally - but even in the top 10, guys are drafted that don't live up to their billing. Whether that's the player, team or both (likely), it's a big unknown. We had some posters back in the day that were advocating for drafting GRob 2nd overall. But you know what? The other guy who we all wanted was Sammy Watkins, and he's been a big disappointment for a top 5 pick.

I guess the answer to this would be the number of first round picks that we can reasonably expect to be a contender - that's how many I'm comfortable trading. Two feels right for this trade.
4
Reactions:
Elmgrovegnome, hotanez, MachS and 1 other person