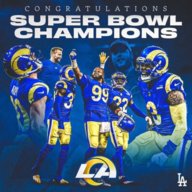 "Did I catch a "niner" in there?"
Rams On Demand Sponsor
Joined

Aug 11, 2010
Messages

7,025
I'd rather they just pick a new name. I can not begin to explain how mad and disgusted I was when Pontiac made an ugly import into the new GTO which was basically just a fancier Grand Am. I always loved Pontiac but they deserved to go under after the shit they made between 2000 and their shut down.
Pontiac missed a golden opportunity to bring back the GTO with a retro model, like Dodge did with the Challenger. However, the GTO was more than a fancier Grand Am. The import you referenced was the Holden Monaro and rode on the Zeta platform, which was quite good. The styling was where they missed the boat with that car.
Also, Pontiac went under for a couple of reasons, but mostly because the Chinese love and buy Buicks more than American's loved and bought Pontiac. Tis a shame, as I always liked Pontiacs, but one had to go during the government bailout, and China won it for Buick.....lame.