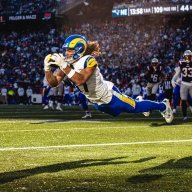 Joined

Jun 1, 2013
Messages

2,837
His smug ass deserved it after the shit he pulled week 17.
Petsonally I think the front office made him do that.
The GM is a power control freak... the fact that a very young Mike Kafka is a strong candidate shows they want someone who will have no say in the draft, coaching hires etc..
Last yr Pederson's end of year press conference, he was adamant that a few assistants, that had been under fire, would be back. They were his guys.
The next day they were fired and reports were he was not happy about it.
Then reports were Roseman was involved in bringing in new guys, like recycling Marty Morninweg and a few others. Now reports are they didnt like that Doug was going to promote Press Taylor to OC.
Can you imagine Snead telling McVay who his assistants were going to be?
Roseman is a joke. He is Jay Zymunt becoming GM. A cap guy who thinks he is a football guy. His drafts have been a disaster and the under 26 talent on that team is almost non-existent.
The last all-pro players drafted were Ertz and Lane Johnson and Chip Kelly was the coach and he had the power as he demoted Roseman in a power struggle. When Kelly got fired Roseman came roaring back to power.
They are screwed until they dump him or demote him to cap guy only.
4
Reactions:
Dz1, BonifayRam, Mojo Ram and 2 others