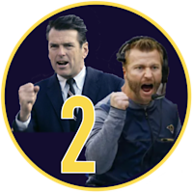 Joined

Mar 29, 2020
Messages

1,258
Name

Jim
I personally think Deayon could be a find. Granted it was only hard knocks, but I was impressed. In fact, I'm currently of the opinion that he's a better CB than Long, although I could easily be wrong about that.

If one of them went down I think we would be fine - we would still have a top 10 CB, a rookie with potential, and then Long/Deayon/Burgess to man the slot. We would go from the best CB room in the NFL down to a middling one (if Ramsey went down), but that's also the risk of paying one player $20 million.

I'm also totally happy to bring in a vet to compete though. Like you said, iron sharpens iron.
I am not saying it's current and accurate but Dont'e Deayon is listed at about the same size as Tutu Atwell ... 5' 9" and 160 lbs.