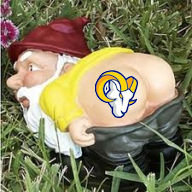 Joined

Jan 23, 2013
Messages

18,066
I sure hope Baker doesn't end up in Seattle. But, there remains smoke.

With Carolina drafting Corral, plus Darnold, they might be cooling?

View: https://twitter.com/theathleticnfl/status/1527646575115108353?s=21&t=UwHoOY89yRixvdZBrfGO_A

FOR FULL ARTICLE GO HERE;

The Cards' new receiver may benefit from skyrocketing salaries at the position and his exit could affect Lamar Jackson negotiations.

theathletic.com

Quarterback Baker Mayfield is still on the Browns, and it's been obvious for a while that it's because of the money.

The Panthers and Seahawks have shown interest in acquiring Mayfield, but the Browns haven't been willing to absorb enough of his fully guaranteed $18.858 million salary. There had indeed been some progress in the negotiations between the Browns and Panthers before Carolina traded up for quarterback Matt Corral — a move the Panthers felt compelled to make with a QB prospect they liked still dangling out there.

The Panthers and Seahawks still haven't ruled out acquiring Mayfield, but they'll need the Browns to take on a much greater portion of his contract than they've offered so far. It's unclear how far apart the sides have been, but the Browns want their contractual intake to be commensurate with the asset they receive in return.

The Browns don't have much, if any, negotiating leverage, and the Panthers and Seahawks are using that to their advantage. As a fifth-year player, Mayfield's minimum base salary would be $1.035 million, which means the Browns could eat as much as $17.823 million in a trade. The Panthers and Seahawks are obviously pushing for something closer to that number.

The Browns, meanwhile, could theoretically keep Mayfield through 2022 if a trade doesn't materialize. If they do release him — absorbing the full $18.858 million and really only netting a roster spot — they've got to believe the Panthers or Seahawks would have to pay him more than $1.035 million, which is part of their leverage play.

The Browns are also daring the Seahawks (Drew Lock and Geno Smith) and Panthers (Sam Darnold and Corral) to roll with their current QBs. With Mayfield still rehabbing his surgically repaired left shoulder, his inability to currently practice has probably tempered the urgency to acquire him to foster a quarterback competition.

Therefore, everyone remains stuck in a holding pattern.
Mayfield in Seattle doesn't scare me. If Pete thought he had too much drama with Russell, wait until he gets Mayfield. Cleveland hasn't gotten the rep as the place where pass catchers go to get worse, because of the coaches.