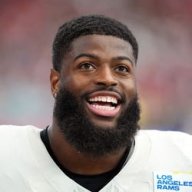 Legend
ROD Credit | 2019 Richest Member
Joined

Nov 3, 2013
Messages

22,162

Thread Starter

Thread Starter
We haven't yet heard wether Staley wants to switch to a 4/3, or I haven't anyway. I think Gaines can play anywhere on the line. I don't see SJD as a long-term answer. He'd flash but was inconsistent at the point of attack. He's not the lane clogger they need. He is too easily taken out by one blocker. Donald would benefit by having a guy like Joseph next to him in either alignment. I have no faith in Tanzel Smart.

But you may be right. I hope your wrong. I don't see an in house replacement for Brockers and they need an upgrade stopping the run. Putting all of their eggs in Gaines basket sounds eerily similar to the center experiment this past season. If it works, then fine. But it's a risky move. I'd like to see a proven vet brought in for security. It would have made sense at Center last year also.
Yeah we heard he's staying.