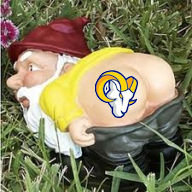 Joined

Jan 23, 2013
Messages

19,072
I don't think the Oline would have been great or even good the way it was constructed after preseason.

The Rams had one glaring weakness and that was it Oline. Then the problem was magnified by injury. Edwards has not been good, so how does he magically improve next to Noteboom? Allen with a healthy knee is average. Shelton is a career backup. Four out of five spots were average to below to start the season. I was hoping for some key upgrades that never came.

Backup QB has been a weak spot for years. What have the coaches thought they ever saw in the two they had?

Drafting has been subpar. No Rochelle, no Burgess, relying on Long and Rapp? Something's gotta give. I guess had they landed Tyran M or Gilmore then that would have been fixed.

I don't see an easy fix. But I don't come here all that much lately to gripe. It's a bit dismal when the team has taken a nosedive. It will be very interesting to see how this off-season unfolds for this team. If it's a fingers crossed approach that involves just getting everyone healthy on the Oline, I won't be impressed.

I'm not a vulture btw. I didn't see the DB problem being so prominent but I've criticized the Oline build for a few years and was not duped by glimpses of hope. I think everyone saw the backup QB problem but just prayed that they would not need to be relied upon.

It is what it is. I'm not angry, just disappointed.