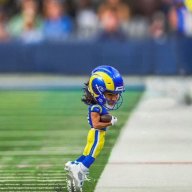 THIS IS MY BOOOOOMSTICK!!
SportsBook Bookie
Joined

Nov 9, 2014
Messages

8,239

http://www.hogshaven.com/2014/11/17/7232879/the-rg3-era-is-over
t just is. I still say the trade was the right decision, everything was going according to plan until the kid just got hurt. You take that risk any time your draft anyone. He got hurt, what can we do? Griffin has amazing drive and wants to win, but he doesn't know how and this isn't an organization for someone like that. He got hurt, his was poisoned by a jealous coach, and now must prove himself to someone who doesn't even want him. It's just time to cut our loses and agree that this experiment is over. We tried, he tried, but our dysfunctional organization is no place for someone looking to become bigger than the team, who is looking to build a personal brand outside of the team. I don't blame Griffin, if these players for all they do to themselves want to get paid, do it. But it is just not working. Our
Alumni Affairs Director
GM Bruce Allen is not the man with a sufficient football mind to make this work with a diva like RG3.
We had two weeks to prepare for a 1-8 team and got demolished. Two weeks. Through the two weeks all that is talked about, all that is asked of the players and coaches, is RG3. He's become bigger than the team, everything in this organization now revolves around the every day utterances of a third year quarterback. It can't be like that. You can't win like that. Nobody can. We need to find some normalcy, a quarterback like a
Carson Palmer
, a veteran who can just come in and play without their every utterance being used to measure the temperature of the team. Today was embarrassing. As embarrassing a loss as I have ever watched. I am worried because we have found some talent worth building around -
Ryan Kerrigan
,
Trent Williams
,
Alfred Morris
,
Keenan Robinson
, Beshad Breeland - but it being wasted on a team full of unprofessional and needless high school drama.
Here are some steps I would take.
Release RG3 and Kirk Cousins. Both are disasters.

rotfl

Sign QB Sam Bradford and re-sign QB Colt McCoy. This might see like a curious thing, to trade one injury prone quarterback for another, but Bradford will bring none of the personal baggage that Griffin has and his skillset may better suit what Jay Gruden is attempting to do. While his ACL injuries are concerning, he wasn't a track star and his play has never been based on that.
Be smart in free agency. I must admit the last few years have been welcomed in their restraint, no matter that it was forced on them. Let's spend some, hopefully on the secondary and some veteran leadership on the offensive line. We'll see if they can help themselves.
2015 Draft (per Fanspeak mock draft):
 I understand your reasoning, but
It would be cruel to let Bradford play behind our o-line.
 It would be cruel to let Hitler
play behind our O-line.
Seriously, playing behind our O-line has to be forbidden by the Geneva Convention.
http://www.thehogs.net/forum/viewtopic.php?f=2&t=37682&start=150
Re:
by
Snout
» Thu Nov 27, 2014 9:23 am
Snout wrote:So much for building through the draft. You know what this reminds me of? The Herschel Walker trade.
This was the dumbest move the Redskins have made in the 30 years I have been a fan. It is stupid to trade so much for one guy -- a guy who might not be as good as everyone hopes, a guy who might get injured on opening day.
So much for patience and sticking with a long term strategy.
In addition to all the other pressure our new pick would have faced, he will now have the additional pressure of knowing that we traded so much for him.
He better not make any mistakes!
Yikes. Woe is me.
Hey Snyder, if you are reading this board, here's the proof you should have hired me to run the FO!
This guy had his head on straight back then on the trade.