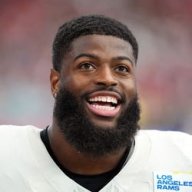 Rams On Demand Sponsor
Rams On Demand Sponsor
Joined

Nov 3, 2013
Messages

30,539

Odegaard is signing isn't he? Thing is they let Martinez go who I think is better than Leno and Ramsdale. Poor decision that.
Odegaard is done physical is complete and he's fully vaccinated. If they get the paperwork in on time tomorrow he will play Sunday against Chelsea.
Martinez was a tough call, he's probably better all around but Leno is a better shot stopper. Martinez is better on things across the box and better out of the back. But Martinez was in his last year and deserved playing time while Leno was coming off the injury so was harder to sell. I get the decision and in hindsight it may end up being the wrong one but hard to know so I don't blame them on this.