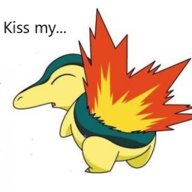 Your (Somewhat) Friendly Neighborhood Authoress.
SportsBook Bookie
Joined

Jul 30, 2010
Messages

12,814
Name

Jemma

Well, the season looks to be a bust. A lot of players (Jack Flaherty, Yadier Molina, Jordan Hicks, Tyler O'Neill, Harrison Bader, Paul DeJong, and many many others) have been injured, including almost all of our starting rotation (we literally have only four starters left in the Major League system, not that Miles Mikolas and Carlos Martinez have been any good), and only Johan Oviedo, Jake Woodford, and Angel Rondon are on the 40 man roster and not injured. Matthew Liberatore and Zack Thompson aren't ready yet. I don't want to see Wade LeBlanc, Brandon Waddell, Justin Miller, or Luis Garcia pitch another game for us, but they're the best we have. And to top it all off, Nolan Arenado may end up opting out.

But there are a lot of bright spots. Alex Reyes is one of the best closers in baseball (although they may end up shutting him down to preserve his arm, which, given the state of this year, I hope they do, and he becomes a starter next year.). O'Neill has emerged in left, while Dylan Carlson continues to grow and show potential from the leadoff spot with his power, speed, and approach. Flaherty was pitching extremely well before the injury during an at bat (that's why I want a DH, mostly; I'm sick of seeing pitchers get hurt during at bats and running bases). Oviedo's pitched well, but hasn't gotten a win at the Major League level yet. Ryan Helsley and Genesis Cabrera are flamethrowers out of the pen, and if Hicks comes back healthy and we add some good players in relief (maybe Thompson next year?), we could end up having a solid pen.

And then we have the prospects! The fact that Liberatore and Thompson are already at Triple-A Memphis is awesome. Gorman killed it in Double-A Springfield and is currently killing it in Triple-A. Jordan Walker, at nineteen, has been an absolute revelation. He outhit Low-A Palm Beach (a hard park to hit at) and is currently crushing High-A Peoria. Nick Plummer and Delvin Perez, our first round picks in 2015 and 2016, are dominating Double-A. Ivan Herrera, the catcher of the future has started most of the games at Double-A, and while he hasn't been hitting well, he's walked a lot, and has been rock-solid defensively. Alec Burleson's hit across two leagues and been nothing short of amazing. Malcom Nunez has regained the form of his Triple-Crown winning in the Dominican League, and has been great. Edwin Nunez, a nineteen-year-old flamethrower from the DR, has started in Low-A, along with left-handed pitcher (and overall strikeout leader) Levi Prater and two-way player (though only shortstop this year) Masyn Winn. Jhon Torres, Tink Hence, Tre Fletcher, Brady Whalen, Juan Yepez, Michael YaSenka, Lars Nootbaar, Brendan Donovan, Todd Lott, Andre Pallante, Connor Thomas, the list literally goes on and on.

And then there's the first two picks of the draft (if we sign them): Michael McGreevy and Joshua Baez, both of whom are great prospects. I don't know what'll happen at the trade deadline, but the future is bright.