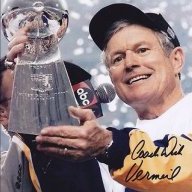 Joined

Jun 20, 2014
Messages

3,187
Well, let's see...

1. Replace/upgrade Jared Goff.

Blockbuster trade was executed bringing in a elite QB in Stafford. Now McVay's playbook can be fully opened once again. Check.

2. Get a speed deep threat WR for Stafford.

Signed DeSean Jackson on an affordable 1 year rental contract with incentives. Check.

3. Upgrade Center.

Allowed the relatively mediocre Blythe to walk with scarcely any effort to retain him. No FA's signed, either. Apparently intending to start a player already on the roster at OC this season. Might draft an OC high but probably wouldn't start him this year, anyway. Result here is still tbd.

4. Maintain a strong Edge presence.

Extended Floyd which definitely solves that problem on one side. Big Check.

5. Keep DW as a starter in '21.

Tendered DW with a 1st round offer. Check.


All considered, the above is quite a lot in terms of roster/playcalling impact, although without a lot of FA signings. Rams are counting on several players already on the roster stepping up to replace departed UFA's, but they've been doing this successfully for years.

Still some needs, of course. But they're mostly 'next year' position needs and will be addressed in the draft plus final FA signings. The one position that I think is a '21 need is WOLB and it should be a draft priority. I just lack confidence in our current players on that side and that will continue until one of them proves to be at least NFL average AND stays healthy while doing so.

But at this predraft stage of the offseason I have to say that it looks like the Rams have a plan and are executing it rather nicely.

Thoughts?
4

4
Reactions:
ramfan46, Shuie3225, Ramhusker and 5 others