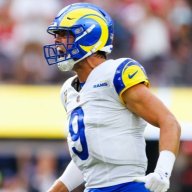 Behorned Beerocrat
Rams On Demand Sponsor
Joined

May 8, 2014
Messages

25,398

They've got a fine defense, giving up only 18 ppg which is good for 3rd in scoring. If McVay thinks he's going to be able to ignore the run game vs them we're gonna see more of this shit after the bye. I realize McVay is very good out the bye. But he's also very good after a loss and still his team was flat and got punched in the face again last night. This game has LOSS written all over it if his ego continues to drive his decision making.

This next two weeks in practice they need to focus on the RUN game and stopping the RUN. They need to find their practice pads, dust them off, and actually use them to practice some physicality. Fuck practice efficiency and walkthroughs. Run some tackling drills and stack/shed practice. Get ready to blow these clowns off the ball on both sides. Treat this like a playoff game.

MICHEL needs to start this game. He needs to get 20+ carries so he can get into a rhythm. He is a physical element our offense sorely needs and I don't want to see Hendy's ass out there until the second quarter to ensure that Michel gets into a groove bumpin and thumpin around in there grounding this offense. The threat of that power on the ground will change the dynamic of what the defense presents.

Defensively if you give Rodgers a run game you're effed. They run our offense and their backfield is loaded with speed and power. Stuff the run first priority. Second priority is taking away early reads because he's gonna have a real hard time if AD and company can get home which they will whenever a QB isn't completing 5-10 yard passes in 1.5 seconds. Get this game played to our strengths and it gives us our best chance against them.

This defense has failed to play to our strengths all season long, allowing teams to drive up and down the field no matter who it is. I get playing it safe especially against a savvy dude like Rodgers but we're gonna have to take some calculated risks in this one. They've already effed away hope of being a top seed. Now they can quit planning parades and get down to business i.e. doing some damn work. And yeah I know this is almost a rant. But seriously man they gotta wake up and embrace some basics or this is gonna get ugly because there's some tough games on this sched starting with the Packers. This team is better than both the teams who have kicked our asses the past two weeks.