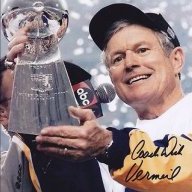 Joined

Jun 20, 2014
Messages

3,776
Imo, the current problems are an accumulation of mistakes made by Snead, McVay, and Rams scouting dept.

First, let me stipulate that OL injuries this year have been catastrophic. Worst I can ever remember in any half-season going back to the 60's. Such injuries would cripple ANY Offense in the league.

But I maintain that the OL injuries alone are not solely responsible for our plight. Hear me out.

Other factors, many of them, have cumulatively deprived Rams of other options that could have alleviated the current problems.

Let's start by being objective about Snead's drafting. It's been largely mediocre for years. He hit an apparent HR with Jones, but what other near Pro Bowler has he drafted with his 2-4th round picks lately? Yeah, he's found 'starters' but that's kinda like picking the tallest midget, isn't it? Others have posted articles breaking down our drafts in the premium (non-1st rounders) rounds and it's been a rather paltry list since that great 2017 class.

I'm sure I'm in the minority on this one, but was that Von Miller trade really a long term positive for Rams? Sure, we won a SB with him, but we gave up a 2nd and a 3rd for half a season of Miller. And we might have won the SB without him, anyway. Meanwhile, we now miss the benefits that would have come from players taken with those premium picks for the next 10 years. Including this season, I might add. Then Rams compounded the problem by letting him get away without an early extension. Did Rams bungle the negotiations or did they prefer to let this so-called difference maker get away as part of the cost of doing business since they now had that beautiful Lombardi in their trophy case? Either way I call it a FO screwup and a big one, at that.

I may never get over the colossal error of drafting Atwell over Humphrey. Especially after Snead has stated that he learned his lesson after the Bobby Wagner fiasco. Was it Snead or, as I strongly suspect, McVay's mistake? Either way the ripple effects of this mistake will be felt for 10 years. This was a classic unforced error. Maybe McVay should confine himself to outlining the types of players he likes at the respective positions and let Snead do the actual picking? Ya think?

Remember that scout (I think it was a scout) that was so excited about drafting Bruss that he jumped into the pool? THAT hasn't aged well, has it? While I'm at it, why have Rams sucked at certain positions in their evals and picks for years? RB, TE, OL, and Edge specifically? And why has it been tolerated for years? I can understand some misses because drafting is an not an exact science. But year after year? Maybe Snead needs to take a hard look at his scouting dept in those areas? Duh!

I'm not gonna criticize Snead for his strategy of trading 1sts for proven players because I understand the rationale and I think it makes sense and is sustainable. But it IS predicated on hitting on a good amount of his 2nd-4th round picks and Snead hasn't really been doing that. That has to change.

Now let's talk about McVay for a little bit. Frankly, I LOVE him and think he's the best Ram HC of my lifetime.

However…

He is far from perfect. For example, is he looking for the 'right type' of OL players and RB's? I'm not so sure. Rams rushing attack has been rather pitiful since Gurley left if we're being honest. That starts with the HC, y'all.

The current trend in the NFL is a resurgence of the running attack and away from the passing game and yet McVay stubbornly is bucking that trend. Many pundits have recently published on this topic. Want a recent prime example? McVay only ran the ball maybe 15 times behind his backup QB Wolford and an overmatched OL vs Cards. He literally set Wolford up for failure with that strategy. I rest my case.

Want more painting-in-corner examples? McVay either cannot or will not run 12 personnel sets because he doesn't think that either Blanton or Hopkins can handle it. This 12 set attack might alleviate his OL current shortcomings and make Stafford's life a lot easier. Whose fault is it that our TE room is so weakened? And btw, why not give this Carter kid a few snaps at either TE or FB? WTH is there to lose at this point?

Speaking of giving youngsters a chance, why not Atwell, McCutcheon, and Hardy? Again, what's to lose at this point? McVay is too stubborn on such matters.

Also, McVay seems to be obsessed with adding Offensive skill players but seems to have a blind spot when it comes to his OL. Even when fully healthy this OL wasn't keeping opposing DC's up at night. So, if we're being honest, this OL has been treated like a red headed stepchild for far too long. That's on McVay.

Like I said up top, Rams have slowly painted themselves into this corner metaphorically for years and we've all been overlooking it because of the exciting winning seasons, the playoff appearances, and winning the last SB. Well, now the chickens have come home to roost. Time to face facts.

Solutions?

Get back to basics.

Snead has to draft better in rounds 2-4. He needs to shake up his scouting dept, maybe starting with the dude who jumped into the pool after drafting Bruss. Lol. The OL and RB would be great places to start the reload.

McVay needs to do some SERIOUS self evaluation. He needs to establish a credible running game or he's finished. The league no longer fears his passing game by itself. He probably needs to let Snead pick the players at draft time, too. McVay should focus on what's in his own lane.

MCVay needs to do a ruthless eval on his current asst coaches. Some of them are not producing needed results as was the case back in the day.

Glad I got that off my chest. I feel better now.